Habits
I recently read the book Better than Before by Gretchen Rubin.  It's a look at personal habits – how we form them, why they stick, and how to create positive habits that will make our lives better than before.  I'm a routine-oriented person who thrives on habits and traditions, so this book was intriguing to me.  I also wanted more insight into how various personality types can improve their habits, since my day job revolves around positive behavior change.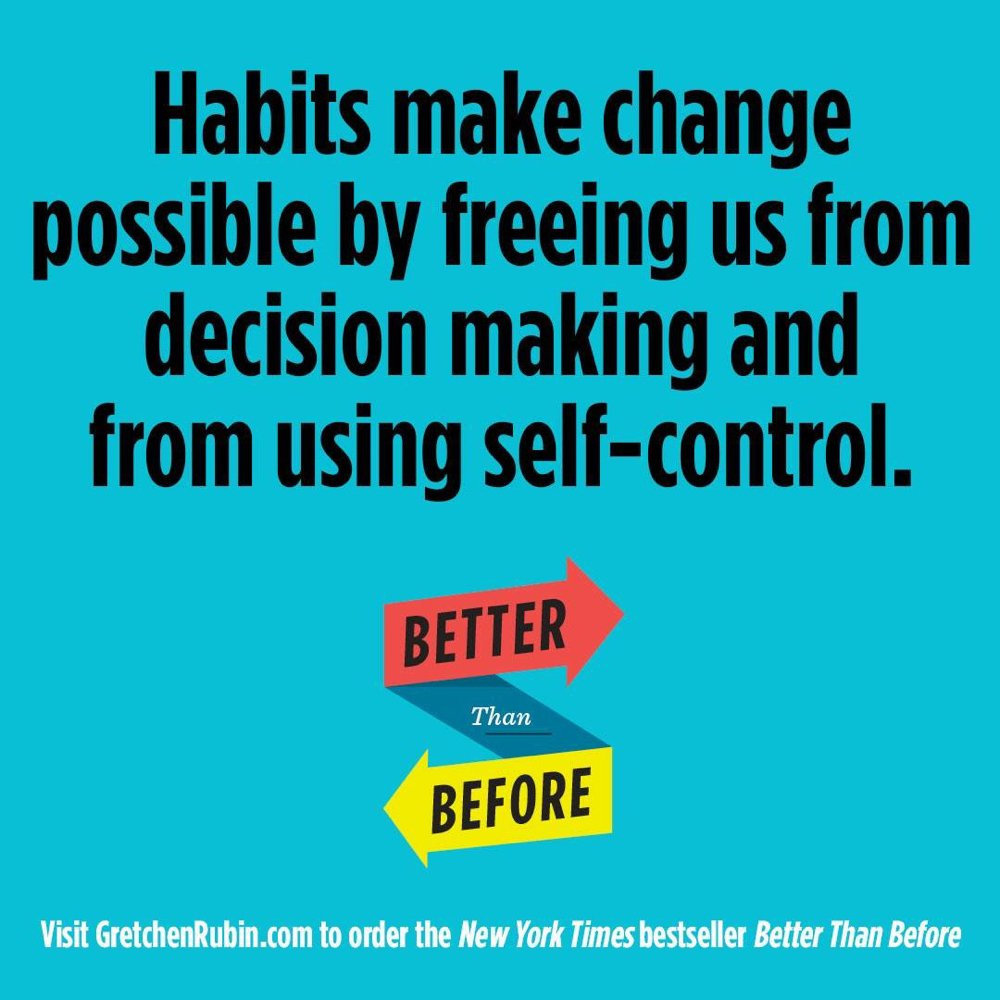 I've noticed that a lot of people think habits are boring and mundane.  However, when you think about it, creating habits for the things you want to accomplish means that you will have the time and mental energy free to focus on other things that you are passionate about.
Here is a list of the habits most people want to foster, according to Rubin.  In my job, the first two habits to every person I  work with.  I personally think I could benefit from better habits in all of these areas.
Essential Seven:
1.       Eat and drink more healthfully
2.       Exercise regularly
3.       Save, spend, and earn wisely
4.       Rest, relax, and enjoy
5.       Accomplish more, stop procrastinating
6.       Simplify, clear, clean, and organize
7.       Engage more deeply in relationships
Now I wanted to share a few key points that stood out to me.  If this topic interests you at all, I highly recommend this book.  It has tons of neat information about abstainers vs. moderators, loop-holes to watch out for, and quizzes you on your personality type with regards to motivation.  (I'm an Upholder, which came as no surprise to me).
Fail small, not big – Not every set back needs to be major.  If you skip a day or two of exercise, don't take the week off.  Staying up late one night doesn't need to derail your sleep habits entirely.  One cheat meal is fine, but a cheat weekend will do some damage.
A stumble may prevent a fall, but every fall begins with a stumble – Be careful of the allowances you make.  The treat yo'self mentality can be beneficial to keeping us on track in the long-term, but remember this can be a slippery slope.
Everything counts – Habits are formed through repetition.  If your parents only made you brush your teeth once or twice a week, do you think you would have the habit of brushing daily now?  If you want the habit to stick, you must be consistent about enforcing it.  For me this applies most to my warm ups.  I would prefer to skip it, mostly for the sake of time, but if I do, I lift poorly and my body hurts.  Sometimes the warm up movements seem trivial and time-consuming, but it counts.
The heap grows one coin at a time – This is based on Rubin's "one coin loop-hole."  Progress is made one action at a time.  Any one training session is inconsequential, but the habit of training is invaluable.
Decide not to decide – This is known as a "bright-line rule."  Once you have decided the parameters, there is no room for interpretation or decision-making.  I will not check my email after 8 pm.  I will only shop from my grocery list.  I will go to bed before 10:30 pm every night.  No ifs, ands, or buts!
Starting is harder than continuing – Re-starting something is hard, so why get off track?  If I develop habits to keep things running smoothly I'll never have to re-start a diet / exercise / stretching routine.  I'd much rather continue than always feel like I'm starting over.
Since finishing the book, I've started listening to her podcast "Happier" while I walk Henry.  If you've got some habits you'd like to master, I recommend both!